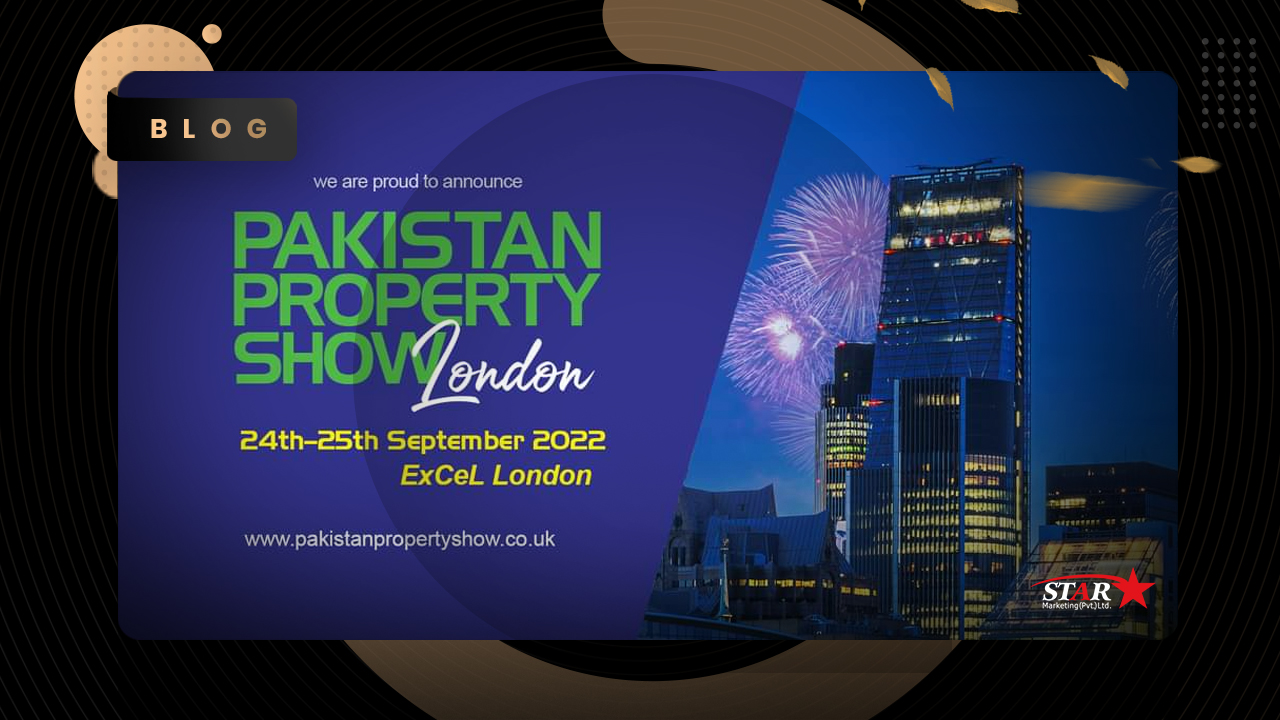 The real estate market of Pakistan is not a site of boredom as it was used to before. In today's world where everything is excitingly entertained, communicated, and delivered, the real estate market of Pakistan is also coping well in this race. To provide a perfect investment opportunity to potential investors, buyers, or sellers of the real estate market of Pakistan, there are numerous initiatives taking place in Pakistan's real estate industry.
Among these innovative techniques that are been conducted to encourage real estate business in Pakistan, The property expos are one of them that has been proved as highly informative and responsive on the grounds of the real estate market of Pakistan. If you haven't been a part of these real expos yet, then don't worry another Pakistan property expo London is around the corner to probe real estate investment opportunities in ExCel London.
The Motive of Pakistan Property Expo London 2022:
The ultimate mission that Pakistan Property Show UK holds for real estate investors is to create real estate investment opportunities regardless of border limitations. If you have ever felt discouraged before making an investment decision while away from your country, turn this into your chance to come to this Pakistan Property Expo, London, and blow away all the doubts, risks, or second thoughts buzzing your mind whenever you decide to invest in Pakistan's real estate market. Come, meet, communicate, negotiate and invest through Pakistan property expo 2022.
Who brought the idea of Real Estate Expos to Pakistan?
One thing that is asked quite often that who is the person behind initiating the idea of bringing sellers and buyers under one roof for one-to-one real estate communication? The answer is none other than "Star Marketing's CEO Wasiq Naeem." From introducing print and digital media into real estate back then and now introducing the concept of real estate international expos, Star Marketing never fails to deliver the most convenient yet profitable facilities to the real estate market.
Past Pakistan Property Expos Experience:
Recent Pakistan's Property Expo has been conducted in Dubai where hundreds of investors were welcomed to the finest properties thriving in Pakistan. There were multiple investment opportunities available for the real estate investors with discounted deals exclusively present at that property expo. The investors or buyers got the opportunity to analyze the real estate market with the builders and developers of the project and explore their dream houses within their budget.
Also, the organizer of the Pakistan Property Expo doesn't let anybody in! They conduct proper verification of the builders willing to sell in the market so that the investors don't face any scam under our roof. Pakistan Property Show Dubai was one of its examples where all the reputable builders were gathered to bring the international audience to their project. If we talk about the margin of real estate property sales in our last expo, the answer is scrumptiously phenomenal! Last Pakistan's property expo scored great amounts of sales and favored greatly both poles of the real estate market, builders and investors.
If this doesn't tickle your investment intentions then this year's Pakistan Property Expo London surely will!
Pakistan Property Expo's Location:
Pakistan Property Show is coming to the UK this year where the majority of the potential investors of Pakistan's real estate market are witnessed. The location resides in the vicinity of England's Capital, London where the organizers make sure to entertain maximum footfall of the customers through the easily approachable location.
The decided location for this upcoming property expo is ExCel London which is only a 5-minutes walk away from Royal Victoria Dock and Bridge. The premises of Merchant logo
ExCeL London is quite bustling as there are restaurants, musical halls, parks, and other recreational activity spots available. So if you are planning to visit the Pakistan Property Expo 2022 with your family then be botherless from your kid's entertainment because the ExCel location is enough to take care of it.
Mark the Date of Pakistan Property Show London 2022:
The next Pakistan Property Expo is going to be held on the 24th and 25th of September at ExCel London. This is going to be a two-day real estate expo event where you can avail yourself of the chance of meeting reputable developers and builders of Pakistan's real estate market and conquer their offers that will surely fit right in your pocket. If you live in London then reaching the destination of Pakistan Property Expo 2022 won't be a big deal for you. This is the call to all potential buyers and investors to come and attain this opportunity that is designed specifically for you
So mark your calendars now, because what we are offering this year is something unique, limited, profitable, and economic