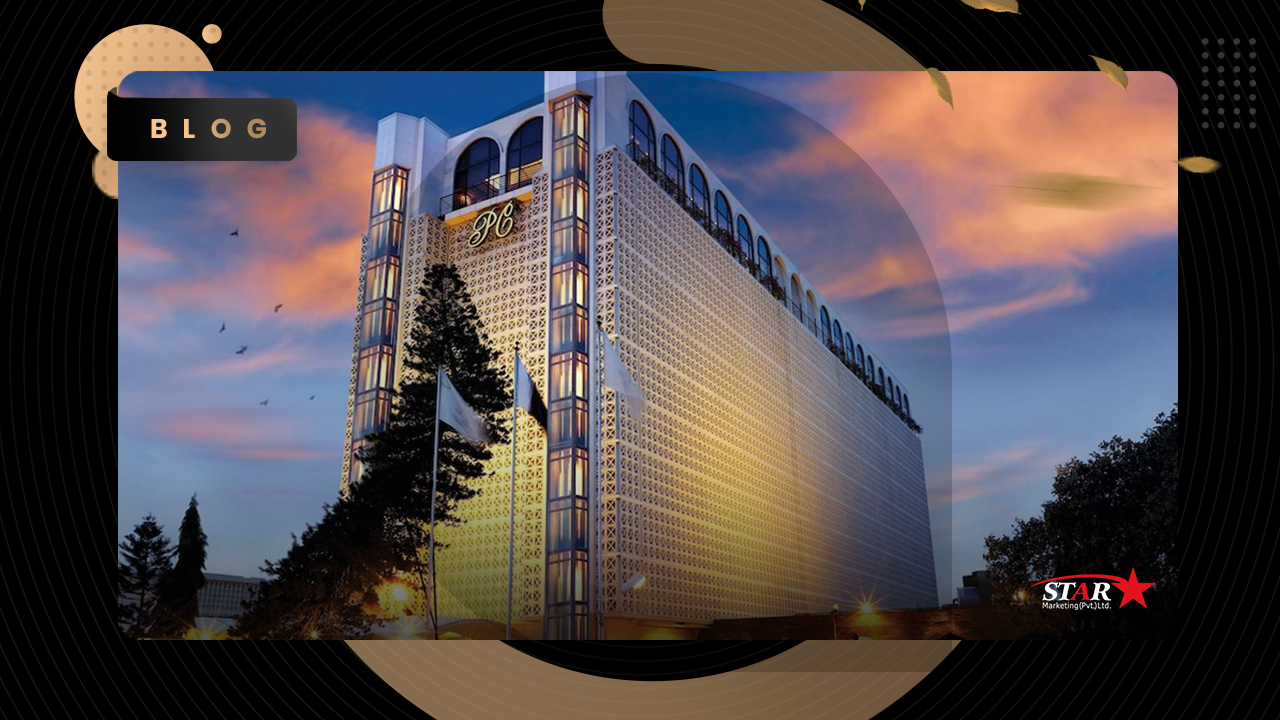 The pearl continental is the name of Pakistan's most recognized hotel brand in the whole world. The hotel chain is serving its top-tier hospitality with the utmost effort in most of the cities of Pakistan. Pearl continental Pakistan is the preference of all the local and international celebrities, foreign tourists, and locals when it comes to observing a serene, classical, and comfortable stay.
The first-ever 5-star hotel in Pakistan has entertained several notable individuals from around the world, including King Hussain of Jordan, Nelson Mandela, and Queen Elizabeth II. During their transits, cabin staff from Swissair, SAS, and Lufthansa would remain there.
The Pearl Continental of Pakistan is currently spreading throughout the entire nation like a spring, establishing the highest standards of hospitality and bringing a fascinating dream to life with lavish interior designs. Let's highlight the number of luxury hotels in this nation that are known worldwide for their distinctive qualities.
PEARL CONTINENTAL PAKISTAN IN 8 DIFFERENT CITIES:
No matter whether you are in the metropolitan city of Pakistan or pursuing any vocational trip in the top tourist destinations of Pakistan, you will always find pearl continental Pakistan in your nearest spot providing everything that you need during your vacations, business meetings, or seminar. There are 8 hotels of Pearl Continental Pakistan operational in the entire country.
Pearl Continental Karachi
Pearl Continental Lahore
Pearl Continental Rawalpindi
Pearl Continental Muzaffarabad
Pearl Continental Peshawar
Pearl Continental Bhurban
Pearl Continental Gawader
Pearl Continental Malam Jabba
Pearl Continental Karachi:
Pearl Continental Karachi is located at Club Rd, opposite PIDC، Civil Lines. The hotel is known for crafting a chic ambiance with impeccable services for visitors. The largest hotel chain in Pakistan's capital city is represented by the Pearl-Continental Hotel Karachi, which has a view of the enormous city. Both business and leisure travelers will love the hotel. The five-star hotel offers a selection of rooms and suites for guests to enjoy. With adaptable meeting spaces, conference and banquet facilities are a fantastic choice for your upcoming event. Numerous important gala dinners, weddings, fashion displays, musical performances, and formal ceremonies have been held in the exquisitely chosen banqueting areas of pearl continental.
Pearl Continental Lahore:
Welcome to the Pearl-Continental Hotel Lahore, where you may find peace in the middle of a busy metropolis. Stay in one of our contemporary rooms or suites to experience the conveniences of home. Our renowned restaurants serving both international and regional cuisines have delectable meals. Relax at the spa, swimming pool, or fitness center, you will be served in extreme pleasure. Absolute comfort and a design aesthetic inspired by subdued color tones are features of the hotel rooms in Pearl continental Lahore. You can always count on a great night's sleep to leave you feeling rested and renewed, whether you select one of our suites or a room. You are guaranteed a pleasant and comfortable stay whenever you visit Pearl Continental Lahore.
Pearl Continental Rawalpindi:
The Pearl-Continental Hotel Rawalpindi is conveniently situated in the city's center. The distance between the hotel and the Capital is under 25 kilometers. This international metropolis, which stands on the famed Mall Road, is well-known for its business and shopping districts. We'll take care of all the details so you can relax and enjoy your time away from home. The Pearl-Continental hotel in Rawalpindi, Pakistan, offers luxurious hotel rooms and suites with the utmost in comfort, giving you plenty of room to unwind and recover from a long journey or jet lag. Modern meeting and conference facilities are also offered at the Pearl Continental Hotel in Rawalpindi, and free Broadband Wi-Fi is provided in all of the hotel's meeting spaces, boardrooms, and executive lounge.
Pearl Continental Bhurban:
The Pearl-Continental Bhurban hotel is a magnificent resort located at a height of 6400 feet above sea level in a dense pine forest. The Kashmir Valley and its snow-covered mountains may be seen spectacularly from the hotel's balcony throughout the winter. Be astounded by the exquisite furnishings and unrivaled comfort of our Bhurban accommodations, which meet the highest standards and welcome the outcome of a design that combines comfort and beauty.
Pearl Continental Muzaffarabad:
In the slice of heaven, where the Jhelum and Neelum rivers converge, you will find Pearl Continental Muzaffarabad complimenting the tourist vacations with paramount luxury and comfort. No matter what you choose, a standard room or a suite, the highest level of comfort encircled with the majestic view is what you will get guaranteed in Pearl Continental Pakistan.
Pearl Continental Gawader:
The Pearl-Continental Hotel Gwadar is situated on the spectacular Koh-e-Batil Hill, south of West Bay on Fish Harbour Road, with a view of the Arabian Sea. Discover the comfort and elegance of our spacious rooms and suites along with the sophistication of our specialty restaurants, which serve you the best in Chinese, Continental, and Pakistani cuisine. The 114 guest rooms, including four suites, are spread across the five-star hotel. All of the rooms and suites are capacious and have breathtaking sea views.
Pearl Continental Peshawar:
The Pearl-Continental Peshawar offers an intriguing blend of superb dining services and extensive business amenities that exceeds guests' expectations while remaining elegant and attractive. Pearl Continental Peshawar is located at Khyber road near the Peshawar Golf club. From corporate clients to causal visitors, Pearl continental Peshawar has everything you could ask for. From high-end amenities to top-notch meeting rooms, there's nothing the Pearl Continental will fail to provide its consumers.
Pearl Continental Malam Jabba:
The Pearl-Continental Hotel Malam Jabba, which has a view of the magnificent Hindu Kush Mountains, is a comprehensive tourist destination for getaways with friends and family, nature lovers, and adventure seekers. Visitors can make use of a variety of contemporary services and amenities offered at the five-star hotel when traveling for leisure or business. Additionally, visitors can explore a variety of nearby activities like ice skating, zip line, skiing, hiking, and trekking. The distance between Islamabad and the hotel is about 275 kilometers or about four hours. Malam Jabba is reachable by commuters via the AH1/M1 and Swat Expressway. Malam Jabba is about 35 kilometers and an hour by car from the main Mingora metropolis.
COMING SOON PROJECTS OF PEARL CONTINENTAL PAKISTAN:
Currently, 2 projects of Pearl Continental Pakistan are going to coming soon in the country to serve the best 5-star hotel experience to its customers. The upcoming project of Pearl Continental Pakistan is going to be established in Multan and Attabad.
Pearl Continental Multan:
The project where history meets luxury comes to the city of saint. PC Multan under the legacy of Hashoo group is all geared up to deliver true 5 star hotel experience to their customers. With exquisite rooms, contemporary dining halls, and spacious gymnasiums, get a chance to expeince the luxury with comfortability.
Pearl Continental Attabad:
Pearl continental Attabad is going to be live soon in heaven's heart and most traveled tourist spot, Hunza Valley. Surrounded by majestic views with the enchanting turquoise lake is something your eyes will always dream of. In such scenarios, if you get to stay in a well-designed and perfectly operated resort will double the fun of your vacation. Premium hospitality in utmost comfort is what the Pearl Continental Attabad Resort is destined to deliver. For the investors, Pearl Continental Attabad Lake resort is nothing more than a treat where the traveler's footfall is confirmed, the location is ideal and the developers are the key players. This project of Pearl Continental Pakistan is the ideal blend of perfect investment opportunities.
ZAVER PEARL CONTINNETAL PESHAWAR SHOPPING ARCADE:
Zaver shopping arcade Peshawar is a group of restaurants, shops, and entertainment establishments that will offer residents of Peshawar luxurious amenities on par with international standards. If you considering to invest in the Zaver Pearl Continental Peshawar Shopping Arcade, the Hashoo Company is prepared to deliver an unusual design and captivating architecture in the city that will leave the consumer mesmerized.
PEARL CONTINENTALPAKISTAN HAS MORE TO LAUNCH!
The destiny of Pearl Continental Pakistan isn't wrapped up here. The Hashoo group of companies is very passionate about the vision of bringing exemplary hospitality most finely in the entire country. To support their vision, Pearl Continental is going to be launched in Mirpur Khas and Hyderabad. If you are looking for a value-driven investment opportunity, then this is your time to start your research and gear yourself up for the ride of profits and a creditable real estate portfolio. For more details, you can contact Star Marketing, who is currently in charge of marketing Pearl Continental's projects.